CALIFORNIA GOLD RUSH
An in-school workshop for 4th grade classes.
Curriculum is multidisciplinary to give students a full experience in the science, natural world, culture, and history of the California Gold Rush.
Pan for Gold! (fool's gold, that is!)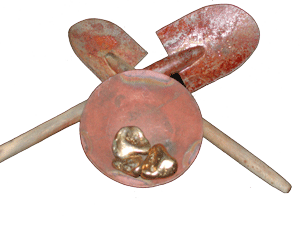 Practice real panning and gold extraction techniques at school! Geomorphology of creeks - where does gold hide? Properties of gold and other minerals found with it. How to weigh and price gold.
Learn Survival Skills for Sierra Nevada Foothills!
Knot tying is a must for sailors, miners and mule pack skinners. Dangerous animals to watch for and how to deal with them. Politics and ettiquette of gold mining camps. Learn to sew and fix your own clothes and shoes on the trail. Foods that Native Americans taught miners to eat in the wild.
Recreate 1849 San Francisco!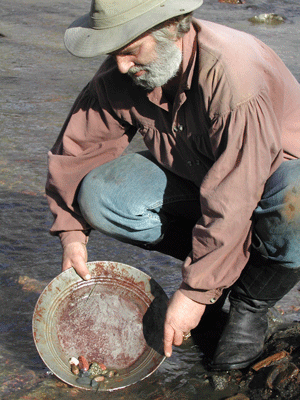 Learn Victorian manners of period school children. Learn and sing a real Gold Rush era song! Be a store owner and sell your wares to sailors, miners and local residents of the port City. As a boarding house keeper, you'll offer meals of the day, baths, and lodging...for a price! You're a miner heading for the Goldfields! What will you need to buy or trade for camp?
We have a full curriculum on California Gold Rush that includes many different topics and activities. Please let us know how we can tailor our workshop to your school's needs!
A full Gold Rush program was also offered as a specia,l two week (10 lessons) Summer School session in 2006. Gold Rush Photo Gallery [click here!]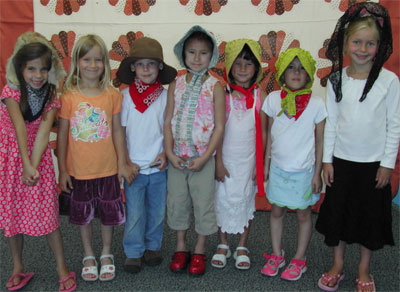 ---