TULE REED BOAT PROJECT
The Tule Reed Boat Project consisted of four Cultural Arts events culminating in the building and launching of our collaborative, handmade Tule Reed Boat using native arts, skills and natural materials.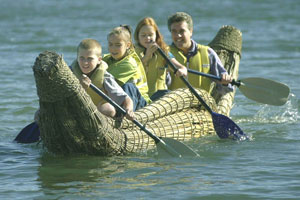 1) Harvesting Tule Reeds in Susuin Bay Marsh
2) Native Arts and Skills training sessions for children and adults
3) Building an 18 foot Tule Reed Boat at Point Reyes National Seashore (PRNS)
4) Launching the Tule Reed Boat at Tomales Bay State Park.
Watershed Preservation Network, Point Reyes National Seashore, and Mother Lode Musical Theatre partnered for the project and invited the general public to attend and participate in all four events through an extensive outreach program. Two Marin schools (K-5) were chosen to assist in building the boat, although the day of the boat building saw over 400 school children participate!
The Tule boat is housed and peroidically on display at the PRNS, as well as accept potential invitations for display at the Discovery Museum, Marin Museum of the American Indian, California State Fair, and others.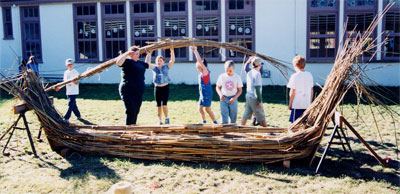 The Tule Reed Boat Project is a unique collaborative process of rediscovery of Native American skills, arts and traditions and early California history and life-styles. Hands-on training and participation allows for participation by all ages, cultures and peoples. Our knowledge can be expanded as we help teach each other and learn together.
There was a significantly broad representation of various community groups participating: Inter-Tribal Council, Miwok Archaeological Preserve of Marin, Native American elders and storytellers, California Indian Storytelling Association, paleotechnologists, native skills artists, Drake Navigator's Guild, California History scholars, interpretive rangers from Tomales Bay State Park and Point Reyes National Seashore, Marin Schools, as well as the general public.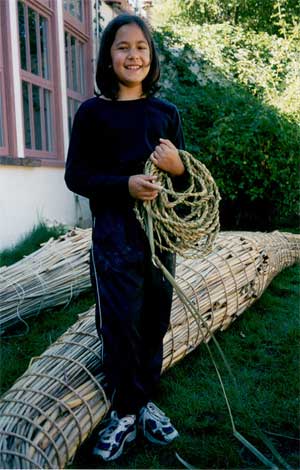 Expression of the arts and culture through building a Tule Reed Boat as a community project created a lasting legacy of enlightenment, knowledge and cooperative spirit, as well as a wonderful natural art piece – the Tule Boat. Every aspect of the project was interactive, and gave participating members of the public direct experience learning and creating with highly artistic native crafts. The art activities included the following: storytelling, textile arts, use of native plant materials, native skills and techniques, graphic arts, visual arts, photography, digital video, and drama, dance and music.
Over 800 children and adults particpated throughout the four month project in four separate events!
Tule Boat Photo Gallery [click here!]